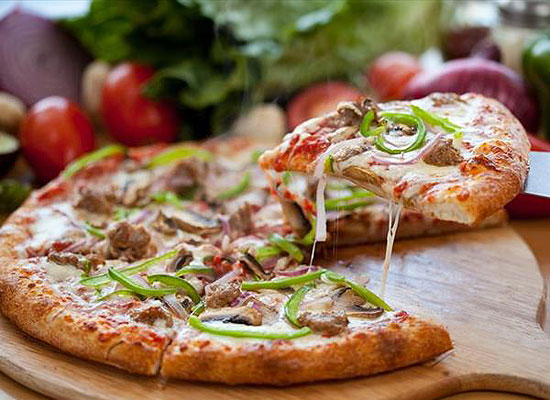 Pizza with Quark Cheese and Mushroom


Ingredients

For the pizza dough
Half kg flour
30 g brewers yeast
Enough warm water and salt

For the sauce
Half cup of grated Kervan Pizza Kashar Cheese
1 cup of Kervan Quark Cheese
2 eggs
1 tablespoon butter
50 g ham
Half cup of cultivated mushroom
1 lemon
1 teaspoon of black pepper



50 mins

Serves 5

Directions
For the pizza dough, put the flour on a flat surface, open a pool in the middle and add powdered brewers yeast. Melt the salt in 1 cup of warm water, gradually add it to the dough and start kneading. When the dough reaches the consistency to not to stick on the bench and your hands, shape it as a ball. Cover it with damp fabric, and rest at least for 1 hour for fermentation. After 1 hour, knead the dough again, and place in the pizza tray. Mix 2 yolks and quark cheese thoroughly. Add grated pizza kashar, salt and black pepper, and continue mixing until it gains the consistency of cream.

Have the lemon juice and keep the mushrooms in the juice. Then, brown the sliced mushrooms in a pan with 1 tablespoon of oil. Then, chop the ham, add mushrooms, and continue roasting. Then, turn the heat off, and leave to cool down. When it gets cold, add the cheese mixture, and mix all ingredients thoroughly. Add some salt to the yolks and mix in a different bowl until they get creamy. Then, add this mixture gradually to the cheese mixture, and mix thoroughly.

Spread this mixture on the pizza dough. Cook for 20 minutes in an oven preheated up to 180 degrees.